We have had four years to get familiar with the new Nutrition Facts label that includes "added sugars." Occasionally we are asked what is meant by added sugars. The FDA provides this definition.
Added sugars include sugars that are added during the processing of foods (such as sucrose or dextrose), foods packaged as sweeteners (such as table sugar), sugars from syrups and honey, and sugars from concentrated fruit or vegetable juices. They do not include naturally occurring sugars that are found in milk, fruits, and vegetables. (Source)
Here are some examples of added sugars.
cane sugar
coconut sugar
corn syrup
honey
agave nectar
date syrup
maple syrup
brown rice syrup
molasses
fruit juice concentrates
The below Nutrition Facts panel is for a yogurt, granola, and fruit parfait. It reports the total sugars at 16 grams, which includes 6 grams of added sugar. That means 10 of the 16 grams of total sugars are naturally occurring and the remaining 6 grams are sugars added in processing. The added sugars come from sweetener added to the granola in processing. The yogurt and fruit are unsweetened and do not contribute to the added sugars but do contribute to the total sugar because of their content of naturally occurring sugars.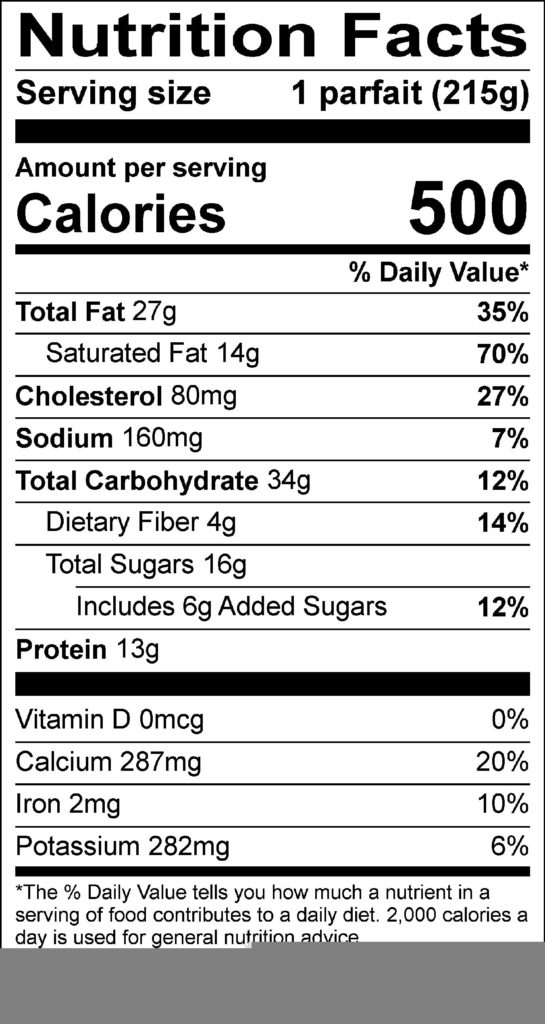 If you are uncertain what is considered added versus naturally occurring sugars, On The Menu can help. Contact us for assistance with your labeling needs.